This is a Wiki

ANYONE MAY EDIT THIS TEXT

you need to register first
Essentially in the event of an attack of some kind you need to move the principal away from the attack. The 'attack' might come from a bullet, an egg, a shout, a knife, or a punch. This is where the term 'bullet-catchers' originated. The Bodyguard, by placing himself between the attacker and his Principal will 'catch' the bullet meant for his boss. Well that's the theory anyway!  Responses to attacks are known as 'action on' drills, 'reaction drills or 'immediate action' drills. For clarity we will use just the one term 'action-on-drills' (AODs). Your AODs will vary depending upon lots of different factors, such as the type of attack, your location, whether you are working one-on-one or have an escort section. ACE will almost always apply, but there may be occasions where evacuation is simply impossible, or where the Close Protection Officer's best course of action is to stay and fight rather than run. Common sense and experience will be your only guide in such matters. But because most of the time ACE will apply, this is what we will practice over and over again and then some more. Our ACE will need to be as instinctive as ducking, and to get there means that we must practice a lot.
Assess Control Evacuate ACE
Your action on drill. The acronym, to remember the sequence, is ACE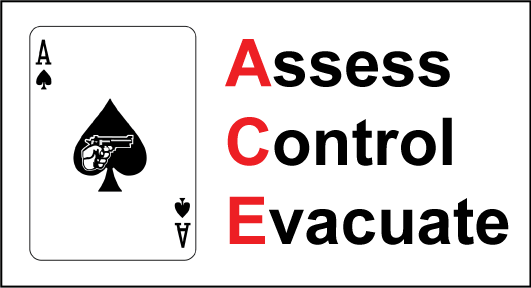 Assess
Throughout your working day as a Close Protection Officer you are constantly assessing situations, looking for possible threats. With regard to providing AOD's you might be reacting to a gun shot or a shout or even something that you have seen and don't like the look of, such as a suspect package or person. Before you can act you need to assess the situation. It's no good running away with the Principal if you are running in the wrong direction. Your actions might be different should a gun attack be short or long range, or whether it is a knife, a grenade or even a flour bomb. Assessing the situation might take you a nanosecond or ten seconds but providing good cover and evacuation depends upon the accuracy of your initial assessment.
Control/Cover
You first action is to control the principal, while you react to the attack. This might be physically or with your voice. Depending upon the situation you are in, he might be told to run, lay down in cover, get behind you, but you need to get control. In a high pressure situation you need to control the principal. His flight mechanisms will kick in but your control must be strong enough to overcome these.
If you are in a situation where you cannot remove the principal from the danger, then you need to provide him with some sort of cover while you deal with the situation, walls, trees, buildings or even your body might provide the cover.  In this situation this action needs to be quick and instinctive. You must practice providing this cover from all sorts of positions. You may need to provide cover from any direction while walking, while driving or sitting down. While providing this cover you ensure you are able to control the Principal both physically and with your voice. You should be able to run (with your Principal) defend yourself, punch or shoot a weapon.
When working with a Personal Escort Section, at the 'control/cover' stage of your ACE, it might be that the best form of cover is one where everyone 'caves-in' on the Principal and protects him while the best method or direction of evacuation is decided upon. What type of cover you use will depend upon factors such as what is actually happening and whether you have an escort section.
Your best cause of re-action might be to attack the thread, in most cases you'll have no time to cover the principal, you'll just need to do what you can to make him or her a hard target by moving them violently down or laterally while you deal with the attacker.
Evacuate
The best evacuations are planned for, but the next best thing is just to quickly remove the Principal away from the danger. Whenever possible, the bodycover remains on throughout the evacuation. Removing the Principal from danger while providing the bodycover is not easy. It is easier with the cooperation of the Principal, but must also be practised without that cooperation. Your Principal will also have a belly full of adrenalin and be experiencing 'fight or flight'. This could mean that the Principal is with you, or has brain fade, and you need to communicate through this to ensure that the Principal does not hamper the evacuation.