THE DEFINITIVE GUIDE TO CLOSE PROTECTION
This is a complete and comprehensive manual covering all aspects of close protection. It's based upon decades of practice and experimentation in the real world. The Demonstrations, techniques and explanations are distilled from this experience. In print this book weighs two and a half pounds, with 400 large pages and over 150 photo's and illustrations, all of which are included in this Kindle version.
Be aware, if you are looking for a book with lots of machine pistols and guys wearing sunglasses, then do not buy this book. If you want to learn about bodyguards and Close Protection in the real world, then this the the book you need.
American Security Management Magazine said
The Bodyguard's Bible, a well-written book with 38 chapters that flow nicely, informing the reader and maintaining his or her interest. Brown does an excellent job of disassociating "bouncers" from security professionals who protect the rich, famous, and powerful.
Professional Security Magazine said of the book
Browns done a service with this definitive guide to CP. Its a hefty manual that covers the works, Browns Achievement is to describe Close protection as it should be.
This book is THE standard text for the Close Protection industry and is required reading for many of the worlds close protection courses. It really is the Bodyguard's Bible.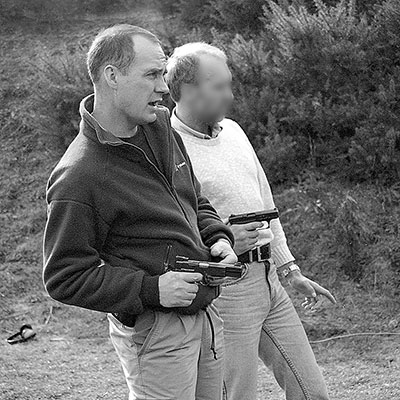 James Brown retired from front line close protection, rather than riding shotgun, he now rides a desk offering his services as a security consultant. A Close Protection Officer with over 30 years experience. He has protected a vast range of clients from page 3 girls to Royalty, as well as rich businessmen and the super rich and famous.
In 1988 he founded Excel Protection a very successful close protection agency and training school in Europe. He has trained bodyguards that have gone on to look after members of the British Royal Family and the rich and famous all over the world.