In the Close Protection environment and in most books on the subject, the terms 'threat assessment' and 'risk assessment' are commonly used indiscriminately and often to mean the same thing. This usage is incorrect. Another equally wrong interpretation I have seen in a recently published Close Protection book is that threats are those things that you have no control over and risks are those things that you have. If we could 'control risk' then nothing would ever go wrong. The best we can do is minimise risk whilst trying to negate it completely. To enable you formulate a plan of action to protect a client, you should understand that these terms mean two very different things. However, I do acknowledge that sometimes the difference between the two can become blurred.
Essentially, a threat is something that your or your client may have to deal with: the threat of a kidnap, a car crash, identity theft or an earthquake. Risk represents the likelihood of these threats happening. The threat of an earthquake in the United Kingdom, for example, is not much of a threat because the likelihood (risk) of a dangerous earthquake in the UK is remote. Risk is used to describe the possibility and probability (the likelihood) of a threat happening.
When people sit down to write what is commonly called a 'risk assessment', they write a list of things that they call 'risks'. They are in fact building a list of threats; a risk assessment is assessing the likelihood of those threats happening. A definition of threat assessment for Close Protection could read as follows:
Determine the risks associated with all potential threats and then balance these with the security measures we
can take to negate them
Don't be confused. In Close Protection, threats are the danger and risks are the likelihood of the threat happening. The threat when we cross a road is that we might be hit by a car. What is the risk of that happening when a; we cross without looking left or right or b; we stop at the kerb, assess the traffic, its direction and speed and then make a decision about when it is safe to cross? By doing this we reduce the risk of the threat happening. Simple.
Threat Assessment; why we do it
The bedrock of personal protection is based upon an accurate threat assessment. It is impossible to determine the correct type and amount of security measures we may need to protect someone unless the type of threat and the risk of it occurring have been established. While you might think it reasonable that we strive to protect our client from each and every threat, it's important to understand that you cannot protect someone from every threat, all of the time. Nor would we want to, firstly because it's practically impossible to do so and secondly because to strive to do so is neither efficient nor effective.
The two big C's that should be employed when formulating responses to risk are Compromise and Convenience. All security is based on a compromise and this is always being balanced with convenience. These two Cs seriously erode security. Let's say that your task was to protect the British Prime Minister. It would be easy to install him in a specially constructed bunker in the Tower of London and lock him in there. Here he could easily run the country and all his other affairs by email and videophone. The security would be excellent, he would be safe. However, this would not be convenient for him. He would want to be out and about all over Westminster and the world. When the Prime Minister leaves the fool-proof security we have designed for him at the Tower, his perfect security is now compromised and is much less effective. We have to compromise our security for the sake of the Prime Minister's lifestyle and convenience.
The best protection operation then is the one that affords the correct and appropriate level of protection with the minimum intrusion into the Principal's normal lifestyle. The key to establishing this level of protection is to perform a threat assessment. Once the potential for harm has been evaluated, you must then determine the risks of the event happening and then assess what security measures must be put into place to control that threat. Where possible, threats and their associated risks should be avoided all together; where this isn't possible you must focus your efforts on minimising the risk or the consequences of it.
Salting the Step
It's very easy when carrying out a threat assessment to focus only on major things such as terrorist attacks, kidnaps and other such threats. You will remember that in the definition of threat assessment you are asked to assess ALL potential threats. 'Salting the Step' was a term used in our company with regard to threat assessment. Occasionally you might be asked, "Have you salted the step?" The questioner was asking you if you had looked at all the other maybe less glamorous threats, whose associated risks could prove to be as damaging as any terrorist attack. The saying originates from an assignment back in the nineteen eighties when a team were looking after a very elderly Middle Eastern royal, headed up by a very enthusiastic Bodyguard/team leader, who was always stressing to his team the importance of threat assessment, continuation training and practising the team in their emergency drills. The team and the team leader were always 'ready for anything', well, anything except the ice that formed overnight on their Principal's front doorstep! The resulting slip on the ice led to a broken hip and a lengthy stay in hospital for the Principal, and left a team leader looking for work!
So salting the step came to mean assessing all of those other, seemingly 'lesser' threats, which could be easily overlooked, the little things that at the time maybe seemed less important than working on the safe room and emergency evacuations. Things like fire and trip hazards are often forgotten. Unless you have been told otherwise, we are looking after a Principal's complete physical well-being, his peace of mind and his privacy. Anything that intrudes even slightly into these must be considered a threat, which you will include in your assessment.
Types of Threat Assessment
There are different types of threat assessment. There are those associated with people, places and events, as well as dynamic assessments that we make on the move. Most assessments, apart from the dynamic ones, which we will discuss later, will be carried out by someone with experience, so that all of the threats associated with the person, place or event can be assessed. This assessment is written down so that others in the team are made aware of it. It is not a good idea for just one person, no matter how experienced that person is, to carry out a threat assessment on his own. The whole team, or, if the team is very large, then some key members from it, are in a much better position to ensure that no threat is overlooked. I have often heard the question, "If I am working in a one-on-one situation then must I do threat assessments on my own?" It would be rare for there to be no one to help. Don't forget the Principal – he or she is in a unique position to help. What about a trusted friend or family member? They may well be able to help. Sometimes someone not close to the protective operation can point you towards areas you might have overlooked. If you must do threat assessments on your own then do them very carefully and re-visit the assessment often. Any assessment, whether it's going to be delivered orally in a briefing or committed to paper and then distributed, must be CLEAR©. That is: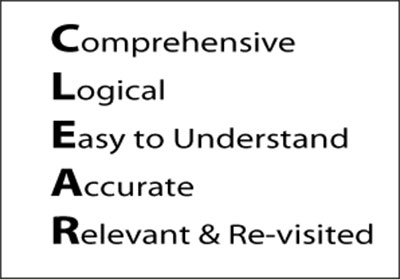 How do we do it?
The first thing that we should do whenever we carry out a threat assessment on any trip or type of property, such as the Principal's home, office, boat or hotel is to compile a complete list of threats. The best way to do this, in a team, or on your own, is to use the process of brainstorming. This is an excellent tool for coming up with ideas as long as you stick to the rules.
Brainstorming Rules
Collect as many ideas of threats as possible from all participants, with absolutely no criticisms or judgments made while ideas are being generated.
All ideas must be made welcome no matter how silly or far out they may seem. The more ideas you have the better. It's amazing how one small idea can develop and throw up threats that might otherwise have been missed.
Absolutely no discussion takes place during the brainstorming activity. Talking about the ideas will take place after brainstorming is complete. Talking about them now will stem the flow of ideas.
Whenever someone offers up a threat, do not criticise or judge. Don't even groan, frown, or laugh. All ideas must be treated equally valid at this point.
Do not try to put the threats in any order of importance at this stage.
Do build on others people's ideas.
Do write all ideas on a flipchart or board so the whole team can easily see them. This should avoid any repeats.
The Brainstorming Sequence
One team member should review the topic of the brainstorm, i.e. security of the Principal's office, using 'why', 'how', or 'what' type questions.
Example:
Let's say that the topic for the brainstorm is assessing threats at the Principal's office environment. What threats might this area or office present us with?
Everyone should think about the question silently for a few moments. Each person might want to jot down his/her ideas on a sheet of paper. For example, someone might note:
1) Theft (2) Fire (3) Industrial Espionage (4) Flood (5) Surveillance (6) Business neighbours (7) Ramming the front gate, etc.
Everyone suggests ideas by calling them out. The team member in charge of the brainstorming session should be enforcing the rules. The rule that often needs reinforcing is the no criticism judgement rule. For best results, this rule needs to be applied rigidly. If people think they are going to be ridiculed they may well not mention something they think about which is important.
Sorting the list of threats
After the brainstorming session you will have a list of threats. Some will obviously be more important than others and they will be in no particular order. You must now methodically work through this list and apportion an amount of risk of the threat becoming a reality. The threats should then be placed in order with the threats carrying the most risk placed at the top of the list.
Decide on Security needed
You must go through your list of threats and decide what security measures you need to minimise or negate them. When working through this list and working out the security measures be careful to remember 'security/convenience'.
This is not as easy as it sounds as many factors now come into the equation. Okay, so we may have identified a particular threat; let's say it's an international terrorist organisation. But how is this threat going to manifest itself? To understand this, we must look into the threat even further, i.e., what are the particular aims of the terrorist group? What is their modus operandi? Do they shoot, bomb, kidnap, blackmail or are they capable of all these? If they shoot, is it short or long range? If they kidnap, do they have a history of killing the kidnapped anyway, whatever the outcome? All of these factors must be analysed before we decide on the type and amount of security required.
Profiling the Principal
No threat assessment can be complete without you having knowledge about the person you are protecting. What is he like? What does he do? These are basic questions that may be asked. However, although they do need to be answered, just knowing these two bits of information will not assist you much in your threat assessment. We do in fact need to know everything about our Principal – mostly we are told only what the Principal or one of his assistants thinks we need to know.
Threat assessment becomes easier, the more we know about our Principal. Consider the implications if our Principal was a skydiver or mountain climber. Surely this knowledge would have some impact on or threat assessment. Consider also the implications if we weren't aware of the Principal's religious beliefs and business interests! What if the Principal plays a lot of golf? (When did you last secure a golf course!) What if he just loves going to Indian restaurants? What if his younger brother despises him or his ex-mistress still loves him? The information that we can glean by profiling our Principal can be of great benefit and of the utmost importance. Some information, no matter how insignificant it might seem initially, could prove to be lifesaving. Some of these questions we may be able to ask directly. In fact, your Principal might think it odd if you didn't quiz him about some aspects of his life. Asking if he is married would be acceptable; asking if he has a mistress might not be!
Much of the profile will be built over time. I have seen some questionnaires that ask if Principal uses drugs or prostitutes. The answers to these potentially embarrassing questions will probably become all too apparent very early on in the assignment, so you can spare your Principal's blushes by not asking him to acknowledge his vices in writing! If the threats are sufficiently serious then you might dispense with the softly-softly approach and ask the embarrassing questions up front. This information once known can be very important and must be fed back into your threat assessments.
We developed the Seven P's©. Each P forms a heading for you to fill up with information from your initial briefings or in the first few weeks of the work commencing. We will discuss these in more detail below: The 7 P's©
The Seven P's of Principal Profiling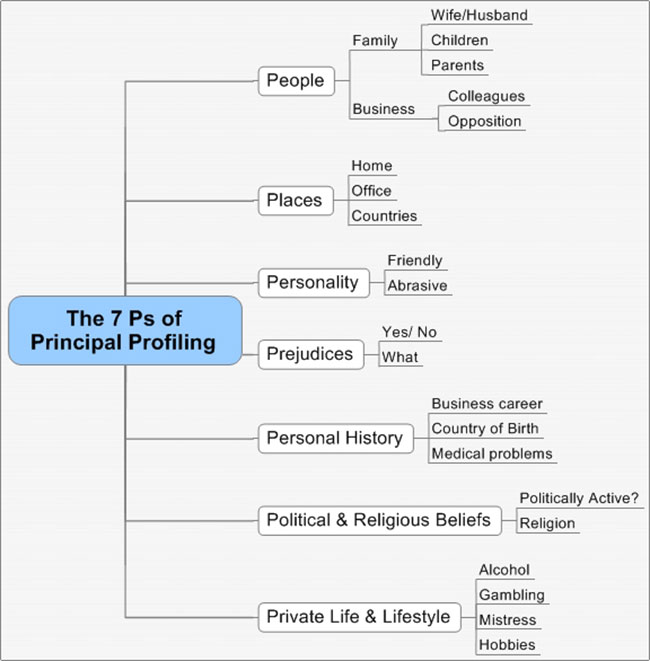 1. People
Our Principal can be related to many other people in many different ways: by blood, marriage, friendship, business, leisure, casually or intimately. Any of these relationships can be the cause of many problems. For instance, a dangerous amorous liaison, a jealous wife/girlfriend/boyfriend, an unscrupulous business associate, problem children, the list goes on. We must know (or get to know) the people that our Principal meets as well as his enemies.
2. Places
Where people are born, where they work and play. These are matters of importance to the threat assessment. Places that can be safe for some people can take on a dangerous aspect for others according to their relationship to that place. Had the danger to President Kennedy in travelling to Dallas in 1963 been correctly assessed and made known to him, the danger would have suggested special security measures. Those measures weren't taken and the rest, of course, is history. What threats do the places in your Principal's life present?
3. Personality
A certain kind of personality – abrasive, contentious – tends to attract trouble! If your Principal has this type of personality, you will probably be acutely aware of it. Many professional businessmen have combative personalities. They might make friends or enemies very quickly. You do not have to like the person that you work for. If he has the type of personality that makes people hate or dislike him, e.g., conceited, forceful, abrasive, rude or domineering. This knowledge should keep the Close Protection Officer on his toes!
4. Prejudices
Prejudices are particularly dangerous attitudes; they are often ingrained within the person. Prejudices can give rise to their mirror image, e.g., if someone is prejudiced against black people this normally gives rise to others who are just as prejudiced against the people who are prejudiced against black people. The good BG will carefully watch and be aware of his Principal's attitudes so that he can pre-empt or eliminate the special hazards that they might generate. People are prejudiced against lots of things, not just people. Your boss might be prejudiced against a particular brand of vehicle or chain of hotels, All this is good information to be aware of.
5. Personal history
This part of your profile should note things such as the Principal's medical history and current medication, names that he has been known by in the past, date and place of birth, past and present nationalities, family ties, marital status and history. This information should be accompanied by relevant dates, places of residence, mother tongues and other languages, honours and distinctions, military service, other public service, occupation and occupational history and titles. A note should be made of how much of this personal information can be obtained by the public, i.e., by referring to Who's Who, Burkes Peerage, etc. Any relevant medical history should also be noted, to include any medications, blood group, allergies, etc.
6. Political and religious persuasion
Obviously we need to know of the Principal's political standing. Is he an active member of any political party? Particular political persuasions could cause us problems, as could the Principal's religious beliefs. A good Close Protection Officer will be aware of both and will anticipate when these beliefs or ideals may cause problems.
7. Private life and lifestyle
Is the Principal a recluse? Does he drive his own cars? Does he use drugs or prostitutes? Does he play golf, skydive, rock climb or eat lots of Chinese food? Maybe he travels extensively, works long hours, doesn't drink, rides horses or watches a lot of TV. Does he travel nationally or internationally? Perhaps he has a mistress or commits adultery. Does he have a high or low profile? Is he a workaholic, an alcoholic or a kleptomaniac? Does he entertain a lot, at home or in hotels? The list of information that we can learn about the Principal is almost limitless and obviously the more we know the better our protective efforts can be.
Putting the threats and security measures together
Once we have completed our threat assessment, leaving no stone unturned and no question unanswered, we can start to put it together using the guidelines given above. It will be frustrating. Some of the points that we will make will be dismissed by the Principal, maybe because the security measure that we are proposing cramps his style, or, even more common, he can't afford to purchase the fleet of armour-plated vehicles that you are suggesting is necessary!
Good threat assessment comes with methodical planning, sound research and the ability to put it all together into a workable protection assignment. It's no good saying that the threat is from an extreme animal liberation organisation, so we are going to need six guys on him at any one time. Just think for a moment how these extremists could hurt your Principal. They might use bombs – mail bombs or car bombs. They might shoot – short range or long range. Perhaps they'll use poison – injecting into food or water. Maybe they'll ram his vehicle, commit arson or seek to achieve their objectives in any number of ways. You must be prepared for them, with security measures in place to counteract them all. Don't forget that they will have the element of surprise; they'll use subterfuge and treachery and probably won't worry about you or other bystanders. This is another good reason to make sure your assessment is good – it directly affects you!
Threat assessments must be revisited often. Do them again, go over every detail, especially the list of threats or possible threats. The threat assessment is never really complete; you are always revamping it and reassessing it.
Dynamic threat assessment
We can carry out vigorous threat assessments, on our Principal, his home and office, and his enemies. When completed, these assessments will form the basis of our whole protective effort. However, by themselves these assessments are only the start. The most important assessments are carried out every day 'on the fly'. 'Dynamic Threat Assessment' is a continual process, that helps you to effectively assess any situation that might affect you or your Principal's safety as it is unfolding. You are continuously assessing the circumstances you are in and must adjust your response to meet the threats presented as they appear.
It might sound a little complicated at first, but it is a simple process and you do it already. Almost everyone carries out a dynamic threat assessment continually, hardly giving it a thought. But before we discuss what a dynamic threat assessment is how we do it, it will pay us to look at the frequently used word 'dynamic' and see what it actually means. The Microsoft Encarta dictionary on my computer says that something or someone is dynamic when they are 'vigorous and purposeful, active and changing over time'. So dynamic is the very best way to describe the threat assessment that we carry out constantly throughout our whole waking day. Dynamic threat assessments must be vigorous and purposeful and it they are changing all of the time, then dynamic is the best word to describe the assessments that we continually carry out.
We carry out a dynamic threat assessment when we cross the road, when we stop at the kerb, and when we assess the situation. If it is safe to cross the road, we do so; if it is busy and dangerous we look for assistance in the form of a pedestrian crossing. While we cross the road we keep an eye open, looking for any danger that may suddenly appear. If a car appears and presents a danger to us we will be ready to take evasive action. Dynamic Threat Assessment is all about SAFETY© This is another acronym.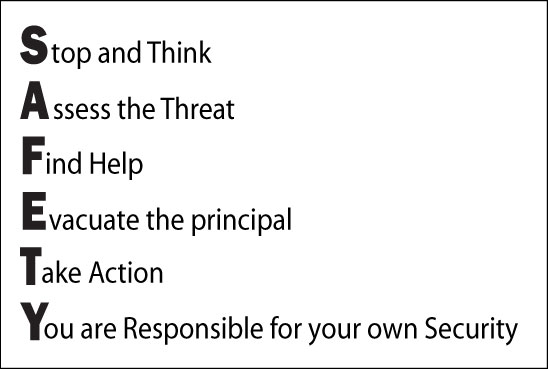 Stop and Think
Whenever we are presented with a situation that requires us to assess the threat, think 'stop'. I have seen hundreds of candidates on courses rush in to a situation without thinking; a fraction of a second is all that might be needed. Just saying 'Stop!' in your head can give you a vital second or so to think. Years ago on first-aid courses, some instructors would teach candidates that the first thing they should do when they came on to a scene that might present a danger to themselves was to thrust their hands in their pockets. This action was the 'Stop' or, in this case, 'Assess the situation, am I in danger?' The candidates were less likely to rush in because the hands in the pockets were the trigger to remind them to be safe. A Close Protection Officer does not want to be putting his hands in his pockets but when he comes across a situation that requires some action, he should stop for a split second and assess the situation. This will ensure that the response to the threat is appropriate and effective.
Assess the Threat
When dynamically assessing threat we should be applying the POPE© model. The model throws up four buzz-words that assist in assessing a situation in real time.
1. Person
Threats tend to come from people. What person are you assessing? What don't you like about him or her? You will be continually assessing people who come within a distance where they might harm you or your Principal. You are assessing to judge whether you may be at risk. Is the person a known enemy? Does he fit the profile of a known enemy? Have you met the person before? What do you know about him? Does he have a history of anger or aggression? Is he a known criminal? If you don't know him, what can you judge from his appearance and behaviour? How does he appear? Is he looking at you and/or your Principal? How is he dressed? Is he clean and tidy, dishevelled, dirty or unshaven? Is he suffering from the effects of drink or drugs? Does he look as though he has criminal intent?
2. Objects
Objects within the POPE model are the objects that affect you and your Principal's safety. You assess a situation with regard to the threats presented by the person and/or any objects. An object might mean the knife in the assailant's hand, the bomb under your car, but it could also mean apparently innocent objects such as drinking glasses. Even a pool cue could be used against you. Does the junkie you want to move away from your Principal's car have an object like a needle in his hand?
3. Principal
What is the threat against your Principal? If he has threats against him that might involve a bomb under his car, then an object under or near his car will take on a more serious meaning than if he did not. When carrying out a Dynamic Threat Assessment the profile of the Principal must always be at the forefront of the Protection Officer's mind.
4. Environment
Assess the situation with regard to where you are, including the time of day, other people around, lighting, etc. Where are you – in Iraq or Ipswich? Are you on the street or in a relatively safe area? Who knows you are there? Is it public knowledge that you were going to be there? Are you in a bar with no security or a casino with lots of it? The environment that you are in is critical to your assessments.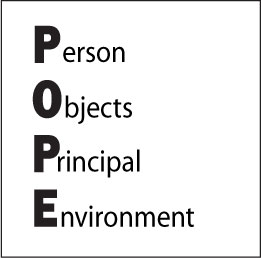 Some types of threat assessment are best approached in a methodical way. Dynamic Threat Assessment is not methodical. The last thing you are going to do while assessing threat on a minute-by-minute basis is to work through a POPE threat list. POPE is an acronym to help candidates in a classroom remember the type of things that they should consider when carrying out a dynamic assessment in real time. The information from POPE, coupled with the judicious use of lots of common sense, should ensure that threats are noticed and reacted to accordingly. Dynamic Threat Assessment needs to be practised continually if you are to become accomplished at it. Those of you that have read about personal security earlier in the book will realise that Dynamic Threat Assessment will help us immensely with the third principle – 'constant awareness'.
Find Help
Common sense will decide if you need to spend time finding help. If your Principal's home appears to be under attack in the middle of the night, then calling the police before you take other action could well be the right thing to do. In a street encounter then looking for help might be wasting time that could be used evading or attacking the threat, but if help can be summoned by a simple push of a button on your two–way radio then it might me stupid not to summon it. Note the use of 'might be' and 'could be'. That is because every incident is going to be different and it's your call. If you are going to summon help do it early. Give them the time they need to respond so that they can be there when you need them.
Evacuate the Principal
A threat is best tackled by not tackling it. Avoidance is always the best option. If you can evacuate the Principal from the danger then do so. Do it fast and ideally it's best if it's done to a plan. But if you don't have a plan it doesn't matter, just get out of there and remember to take your client with you! There might well be situations where escape appears to be impossible; if this is the case then we must still do something!
Take action
If escape is impossible then you must take action. What action you take and how you take it will, of course, depend on the situation you are in. What you must remember is that the whole purpose of any action you take has only one purpose and that is to escape with your Principal. So whether you are punching, shooting, ramming, or stamping you are only doing enough to make good your escape.
You are Responsible for your own Security
It should go without saying that the first Principal of personal security should never be ignored, but when presented with a situation many people rush right in without it would seem a care for their own safety. Remember that if you are hurt then who is going to do your job and look after the Principal.
The Category System
In the Police or the Army, where resources are almost unlimited and sometimes the actual VIP doesn't get much say in the protective effort, the category system is a well proven method of putting a label on a threat assessment. In addition, many private companies and organisations like to put their VIPs into one of as many as seven categories of risk. Each category represents a level of threat/risk and the counter measures (number of men and equipment) required. You should not use a category system if you have a choice. The two main reasons why you should not use a category system are as follows:
1. Let's say that a category system states that a 'level two VIP' requires a team of X number of men and X type of equipment. It is very rare in the commercial world that we can just slot someone into a category and expect him to employ that amount of men and equipment; it just doesn't work. Normally, if the threat to a VIP is real he will employ however many he feels is necessary or how many he can afford. He may not want an armoured car even if the category he is in stipulates he should have one.
2. Slotting VIPs into categories, especially low ones, tends to switch the protection team off. In an ideal world, we know it shouldn't but in the real world it does. Rather than working from the threat assessment directly, people seem to have the attitude of "Oh, he's only a Cat 4, why should anyone be following us?"
There is absolutely no reason why you should want to put your Principal in a category threat. If you want to use a category system or you work for a company that uses one, then I suggest that you use a very simple three category system that we used for many years.
Category One
Here, the threat is very real, and it is not if it will happen, it is when it will happen. Possibly, the only thing stopping the threats manifesting themselves is the protective efforts of the security team. A good test to decide if a person is in category one is to imagine what would happen if the security team weren't there. If you think that without security your Principal would be murdered, then he is probably category one. A classic example of a category one would be Mr Salman Rushdie, who has a death threat on his head. This man could not walk freely where there was a high Muslim population without fearing for his life. A category one VIP would have as much security as was necessary or as much as he could afford.
Category Two
The subtle difference between one and two is the transposing of the words when and if. In category two, we are saying if it happens, it might happen, it could conceivably happen. This category includes most MPs, pop stars and well-known personalities, etc. A politician or rock star could walk freely in most UK/USA cities. He may draw a crowd but the chances of living to tell about it are much greater than a category one threat. Again, category twos have as much security as they need or can afford.
Category Three
It is in this category that we place everyone who does not fall into category one or two. It contains a lot of people. These are businessmen and other not-so-prominent people, who have only general or very low threats against them. Typically, many of these people can afford to employ a permanent protection team only at times of a heightened threat. Very often, they employ just one person, who acts as Bodyguard, chauffeur, gardener and bag carrier!
Keeping abreast of current world affairs
Close Protection Officers must ensure that they know a little about what is going on in the world. This business can quickly take you from an environment that you know well and are comfortable with to another continent with a hundred and one problems that you should be aware of if you are to do your job properly.
Just reading a quality newspaper daily is a start. But while you might find the tabloids a little more interesting, knowing who is dating who is not as much help as knowing that the country you planned to stop over at has just undergone a coup d'état!
Modern technology can push news to your laptop computer, or even your mobile phone. There are lots of 'news clipping services', many of which are free. You supply keywords such as Bodyguard, Sri Lanka, Animal Liberation, etc., and whenever any of those words appear in a news story anywhere in the world you get it emailed to you. If you are looking after a Principal that makes the news, putting their name in a news clipping service as a keyword is a good idea. You can then keep abreast of anything said about your Principal in any publication or other media anywhere in the world. This type of information is invaluable when working on your threat assessments.
Knowing the enemy
Crime and Terrorism touches everyone. You do not have to be a VIP or work in the Close Protection industry to be exposed to the dangers of crime or terrorism. A few different types of terrorists or criminals are outlined below:
Anarchists
Anarchist terrorists oppose all forms of government or any type of authority. They advocate a society based free association of individuals. Anarchists are very often allied with Leftist groups.
Anti-Abortionists
Anti-abortion terrorists commit acts of terrorism against abortion providers and supporters of the "pro-choice" movement. Typically motivated by religion in their opposition to abortion, these terrorists frequently target abortion clinics and doctors. America is one of the main sufferers of the Anti-Abortionists.
Anti-Globalisation:
Anti-globalisation terrorists oppose the integration of the world into a single free market. They believe global capitalism negatively impacts both individuals and indigenous cultures. Anti-globalisation attacks often focus on multinational corporate and trade targets such as McDonalds Restaurants, Starbucks and some international banks. Regular demonstrations in the worlds capitals and at meetings like the G8 summit are often a cover for the Anti-Globalisation terrorist.
Communist/Socialist:
Communist/socialist terrorists commit acts of terrorism to pressure their government to redistribute wealth or to change ownership of industrial means of production. They often attack in opposition to such government policies as the privatisation of state industry and resources or the reduction of entitlement programs such as pensions or welfare. Examples in this category include Túpac Amaru Revolutionary Movement of Peru.
Environmental/Animal Rights Extremists:
Environmental/Animal Rights terrorists commit acts of terrorism to influence their government's environmental policy or to stop/bankrupt private companies that are perceived to be harmful to animals or the environment. Examples in this category include the Animal Liberation Front and The Earth Liberation Front
Nationalist/Separatist:
Nationalist terrorists commit acts of terrorism to defend what they believe to be the interests of their national group or in reaction to colonialism. Nationalist terrorist groups often seek autonomy or statehood on behalf of a minority ethnic or religious population that resides within a larger state, in which case the terrorists are separatists as well as nationalists. Examples in this category include ETA (Basque Fatherland and Liberty) from Northern Spain and Liberation Tigers of Tamil Eelam.
Racists:
Racist terrorists include all groups that select targets based on their ethnicity. One of the most famous being the Klu Klux Klan and the White Aryan Resistance.
Religious:
Religious terrorists commit acts of terrorism in order to comply with a religious mandate or to force other to follow that mandate. These groups tend to be less interested in achieving policy change and less amenable to political concessions or negotiations. Examples in this category include Christian terrorists such as the Lord's Resistance Army in Uganda. Islamist such as Al-Qaeda and the Armed Islamic Group in Algeria.
Stalkers
Celebrity stalking is a fast-growing phenomenon. If your Principal is the subject of a stalker then you have to work exceptionally hard to ensure that the stalker does no harm to the Principal. This is because some stalkers will do absolutely anything to get close to their target. Most people became aware of celebrity stalking in the 1980s. Many will remember some of the high-profile stalking tragedies that ended in death. John Lennon was shot in December 1980 by Mark Chapman. Nine years later Rebecca Schaefer, who was a rising TV personality, was shot dead outside her home. Her killer had been infatuated by Rebecca since seeing her in a commercial for her TV show My Sister Sam.
Brad Pitt, Meg Ryan, Gwyneth Paltrow, Madonna and Stephen Spielberg are all big name stars that have been stalked. There have also been stalkers among high-profile sports stars, the most famous being Monica Seles.
While celebrity stalking always grabs the headlines, 'ordinary' people are being stalked more and more. Some recent studies in America have shown that around 12 percent of women have had some experience of being stalked.
There are many motivations for stalking; obvious ones such as infatuation and obsession have seemingly become commonplace. Much of the stalking is centered on a sexual element. Jealousy and anger and the wish for contact and control may or may not be sexual motivated. This stalking may start from a simple rejection or a perceived rejection. Indeed, many stalking dramas start at the end of relationships. These relationships might have been long engagements or marriages or may have just been a one-night-stand. Equally, the relationship might never have existed outside of the stalker's mind. Many celebrity stalkers will have only seen their targets on the television or in their mind's eye. Because stalking is such a common crime, the Close Protection Officer needs to know a little about this phenomenon and how to deal with it properly.
Definition of stalking
Stalking is a repetitive pattern of unwanted harassment or threatening behaviour committed by one person upon another. This harassment can take many forms: it may be carried out by email or telephone; the target may be followed on foot or in vehicles; residences or places of work may be overtly monitored by the stalker; letters and gifts may be sent to the home or office.
Mostly a male thing?
Stalking is mostly carried out by men on women. However, there are plenty of men stalked by women as there are men stalked by men. When Jonathan Norman was arrested for stalking Steven Spielberg, a police detective testified at the time that Norman was obsessed with Spielberg and wanted to rape him. When he was arrested he was carrying handcuffs, duct tape and razor blades!
What can we do?
Firstly we should never ignore a stalker hoping that he will go away. Most of the time things get worse until they are actually stopped by the police and imprisoned. And in many cases, even imprisonment of the stalker does not end the harassment as they will continue their campaign from within the jail.
Some Principals that you might work for may have a particularly obsessive or fanatical fan base. These fans may do anything to get an autograph, a handshake, a kiss or a smile. They might camp outside your Principal's hotel room for hours on end, but they are not stalkers. As soon as a fans' actions causes your Principal to feel harassed or threatened in anyway, and this action is then repeated, then such a situation may be defined as one person stalking another.
The longer the stalking goes on, the more obsessed or fanatical the stalker can become, so it is imperative that we try to get the stalker stopped as soon as possible. For the police to be able to act you will need to collect evidence that shows the wilful, malicious and repeated harassment of your Principal and also that it threatens his or her safety.
You must carefully keep all of the evidence that you can. This might include letters or answer machine recordings, video footage from closed-circuit television or hand-held cameras, still photographs, voice recordings as well as gifts and cards, etc. Items that have been handled by the stalker, such as cards letters and gifts should not be handled excessively by anyone. If you know that the letter is from the stalker, because you recognise the handwriting or style of envelope, then do not even open it. Leave this to the police who will be anxious to prove ownership of the writing, the letter, the postage stamp and envelope, all of which may hold vital evidence. You must also record in a log all sightings of the stalker.
Lots of different actions have been tried in the past to put a stop to stalking. Stalking the stalker is one option, and it may work, but giving the stalker a taste of his own medicine is against the law. So is 'making him an offer that he cannot refuse'. The best way forward in any stalker situation is to involve the police as soon as possible. Gather as much evidence as you can, and while you are waiting for the police to do their work you should ensure that the protection you are providing is completely effective.
Summary
Generic threat assessments are done on places and jobs. You might do a threat assessment on travelling to a particular country, or the job or position that your Principal holds. These have to be thorough meticulous and CLEAR, assessing all potential threats and then putting the security measures in place to negate them. The threat assessment must be done with the cooperation of the Principal, and the Principal must be profiled by using the seven Ps. We carry out the dynamic threat assessment throughout our waking day, applying the POPE model.
You need to become an expert in terrorist groups and their methods of operation. There are terror groups in every country of the world, so being an expert on them all could be very difficult. You should though be an expert on every group operating in the country you live and work in. Also remember that many terrorist organisations pay no heed to country borders and are global in operation. You need to know all about these also. A good starting point is . http://www.tkb.org this is the Terrorism Knowledge Base and it offers in-depth information on terrorist incidents, groups, and trials
Over the years, I have come across people who couldn't even name the person that they were looking after; they knew nothing at all about them. "I'm just on the gate, I know my job and that's enough." It's NOT enough. Dynamic Threat Assessment is impossibly ineffective if you do not know who you are looking after and why. No assignment, no matter what the duration or the perceived threats against the Principal, should be started without an examination of the threats you might face. Anything less and you are just not doing your job.